Jacksons Lane Shotokan Karate Club
Sensei Robins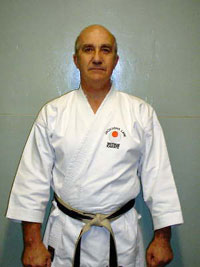 Sensei John Robins 6th Dan
John's introduction to Karate in the early 1970s was at Harry Benfield's Liverpool Uechi Ryu dojo. Unfortunately he had to discontinue training until 1984, when, at the age of 36, he came to Stockport as an unemployed single parent of a 4 year old son. There he discovered David Grice's KUGB Shotokan club.
At this difficult, formative time Karate gave a vital focus to his life: he found work and he built a successful life for both himself and his son. He developed his great love for Karate then and he strove to improve his skills and knowledge at every opportunity. He took all his Kyu gradings with Sensei William "Billy" Higgins, a legendary figure in the Karate world.
In 1990 John heard the world famous Sensei Masao Kawasoe call his name and say the wonderful words "pass shodan": he had been elevated to the world of the black belt Karateka. He soon discovered that attaining the black belt grade was not the end but the beginning of a voyage of discovery that continues to this day. Since those early days, he has studied and constantly researched Karate. He advanced further in grade and he took every opportunity to train with some truly wonderful martial artists of world stature.
During this time he was fortunate to have the unstinting support of his friend and training partner Steve Palmer, now 7th Dan, who encouraged him to "keep his Gi on" when seemingly unsurmountable obstacles appeared in his training path. During this training period John had many unanswered questions in his mind. Being the enterprising and indomitable man he was he sought enlightenment and renewed energy by studying under a wide variety of instructors, some of whom came from perhaps unlikely disciplines and persuasions.
'Political' restraints exist in many sports and Karate conforms to that dreary pattern. John refused to close his eyes to things that were clearly relevant and useful to his studies and training; he believes that to do so would be foolish. For this reason he has attended courses with Shotokan experts amongst whom were numbered those legendary Senseis Enoeda, Kawasoe and Ohta .
He also trained under JKD experts like Mark McFann. John has also trained under Okinawan Goju expert -and walking martial arts encyclopaedia- Patrick McCarthy. John extended his studies by training in Jiu Jitsu under Sensei Jim Pape, taking a number of grades: he took several lessons in Aikido. He also trained with vital point practitioners such as George Dillman, Rick Clarke and last but most definitely not least Sensei Vince Morris, an expert of world stature.
During a low motivation spot in his training -anyone can have one of those!- John was incredibly fortunate to meet and to have the opportunity to train with Sensei Vince Morris. Vince's ability, knowledge and dynamism recharged John's batteries and blew away all the cobwebs, opening up a whole world of fresh possibilities. John will be eternally grateful to him for this, as, like the advice his friend Steve Palmer gave, it made him "keep his Gi on".
The opening of his own club in March 1994 at Hazel Grove Recreation Centre, Jacksons Lane, Stockport was a turning point in John Robins' martial arts development. It gave him a platform to teach and practise those techniques he already knew, as well as a base from which to explore the concepts which he was learning, discovering and developing as his studies and research continued. New concepts and techniques were culled from numerous sources, other ideas came almost unbidden into his mind. Everything was "possibilities" and "connections" as John developed.
John suffered several medical setbacks, which he has overcome, and as always he continues to the very best of his ability to study, to practise and to learn. John attributes his successful recovery -indeed, his survival- to a measure of good luck coupled with the undoubted benefits study of Karate confers.
Extraordinarily, John Robins, Sensei, 6th Dan, regards himself as a student of Karate with much yet to learn. Truly, Karate is a discipline which offers a a lifetime of study, reward and fulfilment.
-Vic Simpson
Sensei Robins is assisted by Sensei Boothby, Sensei Cookson and Sensei Forrester.