Jacksons Lane Shotokan Karate Club
Sensei Cookson - 3rd Dan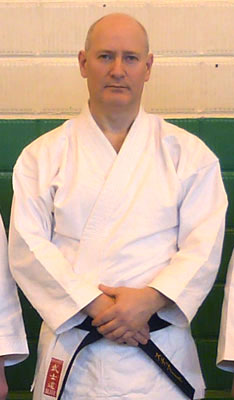 My martial arts interests started in 1978 when I bought 2 books, 'Karate' authored by Eric Dominy and 'The Beginner's Guide to Kung Fu' authored by Felix Dennis and Paul Simmons. Both books are still in my growing collection of reference volumes.
Since then I have sought instruction from various sources mostly having practiced Wing Chun as a core discipline for many of the early years.
My experience of Karate started with Steve Powell's Choshin Kai at the Deansgate Martial Arts Centre in Manchester many years ago, although the style did incorporate parts from other martial arts.
Moving many times in the 80s and 90s didn't help keep a sustained training pattern and so my training suffered and it became a bit of a hotch potch of disciplines, although I did try to keep practicing the Wing Chun when time/work/homelife/young family etc. allowed.
During 2000 I joined a local Bujinkai Karate club in Hazel Grove, but again in 2001 starting a new business curtailed my training and I had to give it up due to time constraints.
From 2001 to early 2014 while building and running the business I really didn't train much at all and joining Sensei Robins class in 2014 was a result of trying to encourage my son to take an interest in martial arts. As it turned out he had no real interest but I decided to keep it up. Various motives included keeping fit, having a hobby as some of my time was being freed up and a general interest in the martial arts kept me training and moving through the grading system to eventually pass Shodan(1st Dan) in December 2016. It was a proud moment and at the same time a great responsibility. Attaining a black belt in a lot of ways means that you are representing your club, so the story doesn't end at black belt it's really just the beginning, you've really only got through the introduction of a great book that will take a lifetime to read.
I have to say that the grading system was really secondary, I was there for the training, always feeling that I need to be 'better', and that's what keeps me training even today, I train as often as I can because there is always something to learn or something that needs to be practiced just a little bit more.... and that will never end.
Martial arts history includes:
1979-2001
Boxing - West Gorton Youth Club
Judo - John Drogan, KNK Ardwick
Nunchaku - Steve Powell's Choshin Kai, Manchester Martial Arts Centre
Wing Chun - John Darwen, Manchester Martial Arts Centre
Wing Chun - Simon Lau, Manchester Martial Arts Centre
Lau Gar - Chris Bowie, Manchester Martial Arts Centre
Fencing(Foil) - Manchester University
Shukokai Karate - Dennis Casey, Hamilton Memorial Hall, Cheetham Hill
Bujinkai Karate - Mike Heapey, Civic Hall, Hazel Grove
2014-19
Main Club:
Shotokan Karate - John Robins, Jacksons Lane Shotokan
Regularly also training at:
Shotokan Karate - David Grice, Dialstone Lane Shotokan.
Also trained at various other clubs some Shotokan and some other styles for extra training.
Spent some more time training again at Bujinkai Karate Hazel Grove.
2020-Started Gracie Jiu Jitsu.
Favourite quotes/sayings:
"Knowing is not enough, we must apply. Willing is not enough we must do."
(Bruce Lee)
Practice a move :
10 times to learn it
100 times to memorise it
1,000 times to understand it
10,000 times to master it
(Unknown)
One of the things I have learned:
Achieving a black belt is like learning the alphabet, in comparison - going beyond the black belt and carrying on learning about Shotokan and Martial arts in general is like reading a great dictionary.
My advice:
Practice - Practice - Practice - there are no short cuts :-)
And to further my martial arts knowledge I started the Gracie Jiu Jitsu Combatives Course in January 2020, a good compliment to the striking techniques of Shotokan.