Jacksons Lane Shotokan Karate Club
Sensei Boothby 5th Dan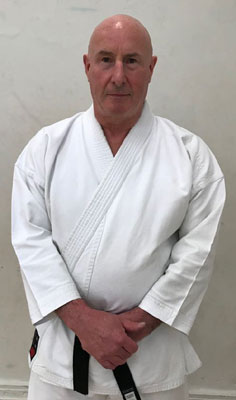 "Come to Karate!" My mate said.
"Why?" I asked.
" You'll enjoy it." He said.
Well that was 1988 and I think I have !!!
I started at Sensei Jack Tilleys dojo on Hillgate in Stockport, my first instructor in the beginners class was Dave Hartley and we have remained good friends ever since.
This phase of training took me to 3rd Kyu when suddenly after returning from holiday the dojo closed for no apparent reason.
I then became a bit of a nomad until I ended up at Sensei John Cheethams in Altrincham, I graded to First Kyu with Sensei Cheetham. During my time there I forged a good relationship with Sensei John Morris. John was from Bredbury and was my source of a lift home during which we had many interesting conversations.
A serious pelvis fracture curtailed my training for a few years then my youngest daughter Rachael brought me a flyer from school about a club that was there and "was I interested?"
Yes I was and the rest as they say is history.
Under Sensei Steve Palmer and Sensei John Robins I resumed training and on the 13th of November 2005 I graded to Shodan, my birthday!!! Jim had taken the time to go and get a black belt for me for 'if' I passed and it's one of the best birthday presents I've had!!!
Successive Dan gradings have brought me up to 5th Dan which I achieved on the 6th November 2021. I'm very proud to be part of Jackson's Lane Karate and I am still building my experience as an instructor.